Arts for Peace Awards / pre-summit
Published: Friday, January 15th, 2016


Arts for Peace / Pre-Summit
The sole purpose of this project is to promote "World Peace and Love" through Arts and artists from around the world.
---
Ms. Munni Irone
Philanthropist, Celebrity Coach / Corporate trainer/Author
CEO of MJD film production & Munni Irone Show

The Arts for Peace Awards were created by Ms. Munni Irone of Beverly Hills. It is Ms. Munni's desire to create a world that works for everyone with no one left out.
"Art is the way that we can experience the oneness between us all," said Ms. Irone at a recent press conference.
"I believe these awards will not only serve to lift up these wonderful artists and their cultures, but collectively this will lift the cooperation between all nations."
---
Public figure Leaders Joined Munni Irone in New Jersey for a pre-summit for the ARTS FOR PEACE Awards. The concept of the awards is that each one of us is responsible for what is going on
globally. We created it. Now let's help fix it with our wisdom. Peace comes from each one of us, by having the energy of forgiveness, compassions towards people who are not aligned. When we don't live with love and respect for others, how can we be an advocate for peace?
WE ARE ONE STANDING TOGETHER LIKE A SOLID WALL.

---
---
Also, Javid Paymani was in attendance as the Ambassador representing Afghanistan.
---
Thank you Ilayas Quraishi for your support
---
Core Pre-Summit Atendees

Mukesh Kashiwala
Vice President Arts for Peace

Born in 1958, India.
BSc from MS University, Baroda, India 1982.
Photography from J.J School of Arts, Mumbai, 1983.
Advanced Photography from FIT, New York, 1990.
Recipient of five international awards in photo contests including NPCI(Nikon) Silver award, 1979-1981-1982-1985-1983.
Photo Documentation project on Mandu, Madhya Pradesh India, 1978-83.
Largest collection of photographs of Pushkar fair, Rajasthan, India.
Invited by Lalit Kala Akademi, New Delhi to hold a two Men Show of photographs in 2003.
Member of president Bill Clinton's press corps on his goodwill tour of Asian countries, 2001.
Chief photographer in JC Penny catalog company studio, 1993-96.
Still photographer with Yashraj Films, Mumbai, 1983-86.
Official photographer/Videographer for numerous Indian organizations in the Tristate Area.
Professional event Photo- and Videographer, graphic designer digital sound technician, and producer of TV commercials.
Associated with Monarch Video Vision, Mumbai in developing software for photo and video editing industry.
Vice President, Indian Artists in America, ("IAIA") and Association of Indian Americans of north America ("IANA".
Trustee, Gyanoday Trust, Udaipur, India for the betterment of rural and folk life in northem Gujarat and southem Rajasthan area.
Guest Speaker on digital photography in International Photography Fair, Mumbai, India, 2005.
Currently working on restoration of 200-plus archival pictures for a photographic history of Iselin Township, New Jersey, home of thousands of Indian.
Writer and Publisher of A Photo Biography of Sadar Vallabhbhai Patel, 2006.
Gujarat Gourav Award of the year 2009 (Florida State).
President of PXL Soft and One Digit of studio.
US citizen living in Iselin, NJ.
Tehrah
Singer / Entertainer
Some thoughts from Tehrah:
My Heart Song
Love is the reason I choose to return to the stage, and sing again…
Even as a child, I understood that music really is the "Universal Language." Now an adult, having lived a long, full life, I know this as truth.
I believe we are the closest to God when we're in service to all living beings using our unique gifts. When I sing my heart, others identify and are moved in profound ways. Knowing that my voice can play but a small part in the healing of just "one" soul gives me a feeling that's beyond words. It is with the gentle, loving guidance of the Holy Spirit that a prophetic, powerful message and my purpose to serve humanity comes through.
It terrifies me to no end to expose the most vulnerable aspects of myself when I speak, but when I sing, I light up. And those who come within earshot of me doing "my thing" light up too—be it a rockin', "kick ass" gritty rock tune, a ballad of heartache and longing, or a deeply spiritual, reverent song to God.
It is this that I live for — to feel the vibration, the air, the spirit and the force that comes through me as I sing my heart out. Giving everything I have to those I sing to is the closest thing to flying, and I am free…
Now, you know ME.
It's my deepest prayer that my music will touch you in some profound way and help you find the courage to release the past, and step through the veil into unknown territory… it is here, you will discover and become the real YOU.
Anna Chef Anina Radoyce
Global Celebrity Chef / International Business Development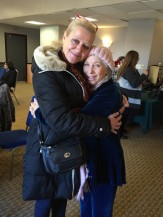 Chef Anina has been cooking all her life. She was nicked named Anina Mangiano when she was two years old. Anina Mangiano literally means "little Anna loves to eat, she loves to eat her food.And that was the beginning of a series of adventures in the kitchen.
Preparing her meal at her imaginary table was the dawning of her dream and the journey that would lead her to the destiny she lives today. By the time she was six, she would climb onto a stool with a serving spoon in her hand, dip it into a pot and taste whatever was cooking. She could tell you exactly what the ingredients were.I guess you could say "she had a taste for food" or as she likes to put it, "when it comes to food she has good taste"
Chef Anina traveled the world and learned English and French. She dedicated many years to research the origin of food and has become an expert on ancient Roman-Etruscan cuisine. Along the way she also mastered traditional Italian cooking. Anina does not go by recipes. Its almost as if the spirit of the masters embody her and guide her hands to put the right amount of this and just enough of that, so to create the taste of Tuscan Delight.
Chef Anina loves to cook and enhance the emotional experience of eating great food. She never looks at a recipe, and she can cook a dinner for 5 in 15 minutes.An expert in naturally low calorie meals and very healthy foods, all organic, Anina learned to shop for produce growing her own, she lived in Tuscany Italy for 30 years.When Anina cooks for herself and her family or her very special clients, its like writing a poem, painting a picture, or sculpting; she calls it "The pure emotional art of food"
Chef Anina comes from a very ancient Tuscan (Italy)family of wine makers. In letting her cook for you, you will engage in the experience of "the real thing" and enjoy it to a point that you will want her to cook for you again…. and again.
She adores what she does and the emotion she is able to share.
Passion at about life and all it essentials, food and the love of good eating.
Chef Anina's Website
Pepper Jay
Actress, Producer, Director
Publisher: Actors Reporter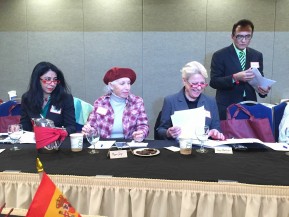 Pepper Jay's Grandmother was her best friend and her Grandmother's best friend was Sophie Tucker ("The Last of the Red Hot Mamas"). Pepper literally spent her childhood and early teens in the Moulin Rouge, Coconut Grove, Brown Derby, and in Vegas casino showrooms watching the Rat Pack and other entertainers of the time. Growing up in Hollywood, California, Pepper began her performance career at age 5, performing in local theatre and TV sitcoms, and she tap danced and performed skits for charity events and fund-raisers.
After graduating from San Diego State University, Pepper Jay obtained a lifetime teaching credential from the State of California and taught public school, Los Angeles Unified School District mostly, for over a decade subjects including drama, dance, Spanish, and physical education. At Crenshaw High School, Pepper was also in charge of coordinating and producing shows by the 100+ member drill team. Pepper was the English as a Second Language Coordinator for a portion of the inner city in LA. Pepper continues private performance teaching and coaching, specializing audience psychology and performance skills for actors, singers, lawyers, and public speakers.
Pepper Jay is a public speaker for corporate events, acting schools, and both public and private schools; sharing with school children topics such as 'Listen and Be Heard,' and with adults 'The Power of Audience Psychology.'
Pepper was a practicing attorney from 1985 through 2014, specializing in fraud, contract disputes, and bankruptcy litigation.
In 1991, Pepper formalized her entertainment company, Pepper Jay Productions LLC ("PJP") PJP produces music, film, TV, internet shows, and live entertainment. PJP also produces and publishes the Actors Podcast Network, consisting of 15+ informative and entertaining shows on three channels: Actors Reporter, Actors Entertainment, and Actors Radio, and for public access cable. From 1993 through 2008, Pepper created and hosted the Working Actors Group, offering on camera and cold reading workshops to working actors.
Today, Pepper Jay is blessed to be found on both sides of the camera. She appreciates being and she appreciates you. Pepper Jay's motto: "Peace begins with me! Let's promote love and peace by living it together!
Keith Mitchell
Former NFL / Current Mentor and Motivational Speaker

Keith Mitchell, former NFL linebacker has been able to find a new life purpose through YOGA. His passion for sharing the practice of yoga and meditation was inspired after his sudden retirement from the NFL.
Along Keith's journey, he has discovered a universal need for emotional and physical healing nationwide. As a good steward of his time, gifts, and talents, he proudly advocates for 3 cause-worthy missions that drive programs that raise awareness and healing programs that reach at-risk youth, wounded veterans, and injured athletes in need through his registered 501(c)3 non-profit organization known as The Light It Up Foundation.
Joel Diamond
Music Producer

Joel Diamond is an American music producer. He has been nominated for a Grammy twice and has produced 36 Gold and Platinum recordings and had over 54 recordings on the Billboard Charts.
Rebecca Holden
Actress / Singer

As a singer, actress, and entertainer, Rebecca Holden's appearances have amassed a fan club with members from around the globe.
Television viewers all over the world are familiar with Rebecca through her stint as the computer whiz (and KITT's mechanic) on the NBC series "Knight Rider", which still appears in syndication in most major markets throughout the U.S. and in over 200 foreign countries. She attained added recognizability from her role as the diabolical Elena on ABC's "General Hospital" and from countless guest starring roles on such prime time shows as "Magnum P.I.", "Love Boat", "Three's Company", "Taxi", "Night Court", "Mike Hammer", "Remington Steele", "Matt Houston", "Barney Miller", and many others. Her movies have appeared at the Cannes Film Festival, as well as festivals in Manila and Japan. In 2015, Rebecca completed a new feature in which she stars, entitled "Hollywouldn'ts" (appearing at Cannes in 2016) and also a lead role in a new pilot for Comedy Central.
Her charitable work includes Toys for Tots, Feed the Children, Special Olympics, the Music in the Schools program, and Habitat for Humanity. She has served on the board for "Operation California", participating in airlifts of medical aid to Ethiopia, as well as performing for "Live Aid," and "Farm Aid" at Texas Stadium along with Willie Nelson. Appointed as the honorary Mayor of Universal City by MCA Chairman, Lew Wasserman, Rebecca served as goodwill ambassador to local and foreign dignitaries. Most recent events include the American Legion Event for Families of Military Support, US Super Nationals Chess Tournament, Virginia Governor Inaugural Prayer Breakfast, the Kids of Honor Gala, and she was the featured performer for the Celebrity Center Christmas Celebration and an added attraction in the Tribute Concert for Luther Vandross. Rebecca's new recording of "Dreams Come True" has been chosen as the inspirational theme for many recent charitable events at which she has performed including: The United Nations Humanitarian Summit, We Care For Humanity, Rhapsody Gala for the YWCA Homeless Shelter, Ventura Animal Rescue Gala Benefit, Family Film Awards, Soulsational Wellness Festival, etc.
Musically, Rebecca has performed in a diversity of styles. Classically trained as a voice major and piano minor in college, she has sung opera, and performed the lead roles in musical theater such as "Oliver" and "Damn Yankees". She recorded a country album for Curb records, with her music videos appearing on TNN and CMT. She also recorded both a country and gospel album for BMG Records in Switzerland and toured internationally all over Europe and the Far East, even performing for the King of Malaysia. She had the honor of being the featured performer with the United States Air Force Band at a memorial for WWll veterans for which the President of the United States was the guest speaker. During Rebecca's service as president of the Music City Christian Fellowship, she performed as singer and mistress of ceremonies for the Christian Country Music Awards and the Sunday gospel shows at the Grand Ole Opry.
First discovered by a top talent agent while continuing her voice studies in NY, she became one of New York's top models, landing the prestigious title of The Breck Girl, which led to magazine covers and countless other national commercials such as Ivory Soap, Dentyne, Kellogg's, Gillette, Arrid, Chevrolet, and ultimately a major television and film career in Los Angeles.
She serves as Mistress of Ceremonies, Performer and Speaker for many Charitable, Corporate, Church, Military, Sports & Political Events, and is in demand for her rendition of the National Anthem. Rebecca has just been named in 2014, the Spokesperson for Airline Ambassadors, which helps orphans and vulnerable children worldwide by advocating child protection and human trafficking awareness.
Rebecca's new CD single release is "Dreams Come True", a magnificent duet with Tony LeBron. The song has become an international phenomenon, as fans from around the world are embracing it as their source of love, hope, and inspiration. Just released on Silver Blue/Summit Records and produced by the Grammy Winning Team of Joel Diamond and Rudy Perez, it is consistently the top added AC Radio record of the week. Even before the release of the official video, it had already (organically) surpassed over 17 Million YouTube views and is currently the #1 "Most Popular and Most Requested Wedding Song" in the world.
"Dreams Come True" has truly become the people's hit record, and Rebecca is committed to spreading the message: When you believe one person can make a difference, which has always been the "Knight Rider" theme, then you too can make "Dreams Come True."
Nutan Dabholkar Kalamdani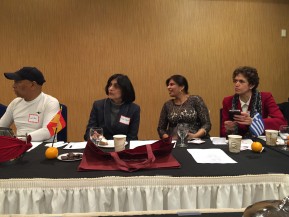 Niti Sunder
Ambassador representing Asia

Shane
Songwriter

Shane is a Voting Member at NARAS at National Academy of Recording Arts & Sciences, CEO/Founder/Owner at Shane-Music, LLC and SINGER, SONGWRITER, PIANIST, RECORDING ARTIST, PRODUCER at Musician
James Pasqual Bettio

James Pasqual Bettio is an American artist, photographer, educator, fashion designer, museum operator, and community organizer. He was a senator in the California Senior Legislature. He is the founder of the Park La brea Arts Council.
Effie Michaels
Ambassador for Greece

A note from Effie Micheals:
Let me introduce myself my name is Effie Micheals. I am part of a United Nations Team that represents the Arts for Peace Awards and I am the appointed Ambassador for Greece. I am honored to be part of the global initiative for Peace. Peace begins within our hearts, it is a conscious choice on how we interact with others. When we live in the moment and we feel at peace others can feel it also. Our senses spark when we smell the aroma of a favorite home cooked and look forward to eating it and feel the labor of love that comes through making it. It warms our soul and we envision how good it will taste and comfort us deep inside. We desire that same feeling to spark those senses so we can feel the peace and love that radiates from within each of us. We can learn to respect each others differences and diversity in world and let go of that which is not meant for us and allow Peace to be still in our hearts. With each new day there is an opportunity to feel peace with in us and it can be a globally contagious feeling of well being for everyone we touch.
I look forward to meeting all of you at our historical 1000 Women & White March on January 9, 2016 in Los Angeles
to begin our journey together of Peace.
Effie Micheals was born in Greece and lived in Chicago for over 30 years. She received her Bachelor's Degree in Business Management at Southern Illinois University in Carbondale. Effie's career started in Risk Management in Chicago and later moved to Denver, Salt Lake City and now lives in the Los Angeles area. Effie obtained her California Insurance License while caring for her family and her young daughter as a New Business Administrator with a Guardian Life Agency. She transitioned to Corporate Administration Management, and worked for the local city government and the school district of South Pasadena. Effie is currently in Administrative Clinical Operations with Kaiser Permanente.
Effie was passionate about the Arts, Film and Theater and began EPM Productions after her successful start as a Production Consultant with New Discoveries Productions, she joined Pasadena Media Studios as a Resident Producer. Her first production consulting project was a documentary film called "Sunset Ave", a passionate iconic film of a historic Pasadena neighborhood. Effie was invited to join production projects and stage management and camera work in filming Episodes of Eye on Fitness, SGV TV Show, Munni Irone Show and assisted in coordinating and producing Munni Irone's Professional Seminars and Events. Effie continues her appreciation of the Arts and has been appointed as the Greek Ambassador for the Arts 4 Peace Awards. Effie is a member of the Greek community at St. Anthony's Greek Orthodox Church where she volunteers and enjoys living in the South Pahttps://www.actorsreporter.com/wp-admin/post.php?post=23873&action=edit&message=10#sadena with her daughter Victoria.
Cantor Esterleon Schwartz

Javid Pymanee
International Finance Expert

Quote by Javid Pymanee:
I am not afraid of expressing the truth and I will continue to express my thoughts in order to
educate the Afghan community and world towards peace, prosperity, and unity.
Synopsis
Born in Kabul Afghanistan on February 16, 1979, Javid Paymanee has raised his voice on
television for 8 years after he made his mind to devote himself to educate and send the true
story for the Afghan people. He believes in God, love, generosity, and cares about people who
have suffered from the casualties of war.
In addition, Javid is against hate crimes towards any race, ethnic background, sex, or religion.
He believes hate crimes against any religion and place of worship across the United States of
America should be addressed nationally. Furthermore, he believes as a muslim that muslims
and non­muslims should be United and be able to live peacefully in the same neighborhoods.
Early Life
In 1989, when Javid was only 12 years old, his father suddenly fell ill and died while he was
praying. While the cause of his death remains unknown, in the aftermath of his father's death,
he has a strong desire to help the children of war around the world.
Ewart Chin
Martial Artist, Actor and Stuntman

Ewart Chin was born on the Island of Jamaica. He started studying Goju-Ryu Japanese Karate at a very early age. Finding the style too rigid and hard, he decided to pursue a softer style and started practicing Hung-Gar Kung Fu with a Master from KwangTung province, China who was a friend of his grandfather, also from KuangTung. He found that Hung-Gar was more to his liking and practiced this diligently for his entire life,attained " Master" status in the art. Master Sifu Wan-Hsu changed his life for the better.
Upon moving to the United States, he began working in films as an actor and stunts person.he was inducted in the World Martial Arts Council, USA Martial Arts Hall Of Fame, and The Martial Arts History Museum.
For about 10 years, Ewart also studied Qi-Gong in Los Angeles with a Monk from The Wu Dang Monastery, China for the internal part of the Martial Arts,balancing internal and external energies of the art. Master Zhou Ting Jue from Wu Dang province is an amazing teacher.
Mark Geroux
Ambassador representing North America

Mark Geroux is a CEO of a construction & real estate company, public speaker and life consultant.
Mark has been in construction for 20 years, learning the trades at a young age studying at a local union college. Currently, Mark is working on a collaboration book with Greg S. Reid in spring 2016 and a life journey book due out in summer 2016.
After attending SK, an invitation only event, it lead him to partner and produce this top 5 entrepreneur event in the near future in Canada. Mark is so dedicated to what he does because his dream is to build youth & community centres that help develop self esteem, motivation, and inspiration to the quote of Les Brown, "You have greatness within you".
That belief comes from the hard life that Mark lived growing up in the foster care system. Now is the time for visionaries and dreamers to make the world a more peaceful place, by helping teach the community a better way of living.
Richard Anteau
Top Dog Marketing Consultants


Richard Anteau has spent over 35 years in the Real Estate, Real Estate Development, and Financing business since 1972, His goals have always been to help as many people as possible, in as many ways as possible, and in as many places as possible. This includes service to his community and others by establishing Glory to Glory Ministries to provide food, clothing, shelter, spiritual guidance, and Job Coaching to those in need; and he was the catalyst that brought the Guardian Angels back to Toledo, Detroit, and several other communities. Mr. Anteau has received letters of Commendation from the President of City Council and U.S. Senator Voinovich recognizing his service to his community. He, along with his wife of 31 years, have raised 5 children and have been Blessed with 12 grandchildren. He continues to support those in need world wide.
Mr. Anteau has been a Professional Public speaker for 35+ years, and specializes in Training and Motivating salespeople. He has spoken before the California State Senate, Orange County, and the National League of Cities, National Conference. He has been featured on several television stations, as he fought crime in the inner cities, and on the cover of the Toledo City Paper for his volunteer Ministry work.
His passion is helping Entrepreneurs and Business Owners save money and make money. As a Constitutional Conservative, he takes pride in showing Business Owners several ways to save on their Tax burdens by utilizing such methods as Cost Segregation, Hiring, and R & D Tax Credits, and several other time proven, cost reduction strategies.
Richard Anteau is the President of The Pro Funding Suite, which is the most comprehensive source for Business Funding in the world today. In this manner he is assisting Business Owners & Entrepreneurs obtain proper Business Financing to ensure their success, and without a Personal Guarantee. He founded Top Dog Marketing Corporation in 2003 as a means to provide good & valuable products and services to Businesses … and to provide jobs for good & valuable Salespeople. He creates Win-Win situations in this manner and continues to seek out more good products & services, along with good & valuable Salespeople to market them.
Richard currently is the Chief Mastermind at Mortgage Masterminds, a Business Consulting Company that helps to increase sales and profits for Business owners, especially Mortgage Brokers. In addition, he is a top notch Negotiator and Agent that obtains the highest benefit for his clients.
Richard believes in Freedom and the American way. He supports Small Business as the literal backbone of America and offers his personal Consulting services, free of charge, to all who ask.
His personal philosophy is that we are all one; there is no separation. He is dedicated to bringing about peace on our planet through inclusiveness and doing all things from the intention of love. He sends out inspiring messages of love, unity, and strength to several thousand of his followers globally, on a daily basis.
Rosalyn Kahn
Ambassador representing Israel and Motivational Speaker

Rosalyn Kahn weaves her experience and knowledge in sales with the empathy of an educator. She delves deeply into personal motivation, the desire for dignity, and the benefits of living with purpose. From coaching Tedx speakers to business professionals and college students, Rosalyn will show you how to master your message so your audience will remember.
Check out Rosalyn Kahn's New Book! Random Acts of Kindness are Changing the World!

Debrah Anteau
Mentor

Debrah's passion is to offer to others, who may be in need, a compassionate heart, inner strength, encouragement and wisdom during difficult times. She has mentored children, woman & men, offering support and inner growth. She was a founder with her husband of Glory to Glory Ministries, a transitional house and she has also been touched by children who were held in our juvenile facility as she went in to care & deposit love to them. She has volunteered with ISOH (international services of hope) which brought children in from 3rd world countries that had medical needs. She is a master Reiki practitioner & works with Chi energy. Her personal experience with Reiki touched her so profoundly that she felt it was a missing link which we all could benefit from. She volunteered 1 year at The Victory Center, offering Reiki to cancer patients and survivors. She has worked with cancer patients as a volunteer coordinator in hospice. Where she recruited, trained, and placed the volunteers with patients during their last days of life. She now has a business helping those who are in need of deep relaxation, peace and balancing of their energy to assist them in their own healing. In addition, she is also their spiritual coach in many sessions.
Debrah is an Officiant, providing a spiritual, non-traditional Celebration of Life, funeral service that she writes. She is a healer, teacher, & a encourager in life, a peaceful presence in the midst of Chaos. She has studied Christianity for 30 years, along with many other spiritual beliefs. Two and a half years ago she founded, coordinated, organized and facilitated a small group of women who share the heart of Oneness she named it the "Sacred Hoop", which means " honoring & respecting all life". They come together monthly, to be empowered and to hold the light within, so they can deposit into our society on a conscious level.
She serves on the Board of Directors for The Arts 4 Peace Awards.
Carmelita Pittman
Singer / Entertainer

Carmelita Pittman is an artist, singer, songwriter, performance artist, and founder of The Rose Breast Cancer Society. Carmelita always signs her art as simply Carmelita; the same as her stage name. However, her step-father was from Pakistan and Carmelita's East Indian name is Jameela K. Uddin.
Known simply as "CARMELITA" as a fine and performing ,recording artist, she hails from Los Angeles, Calif. She holds a B.F.A. from U.S.C., and Master of Science from Pepperdine.A grant recipient , she launched an Afro Expo, and award assemblies. The school also surprised her with a Community Award. She later founded The Rose Breast Cancer Society, a 501.c3 non-profit organization 1998 as a "Living Memorial" for her mother, Juanita Zara Espinosa Uddin, who gave her unconditional love and who loved roses.Her stage performances include musicals produced by the Pink Lady one of which used her original composition in "The Beat Goes On" at Hollywood's Arena Stage. Not shy , her audiences range from intimate to large, local to impromptu performances in Europe, and remote regions of China such as the Mongolian grasslands and to the border of Pakistan, and Kenya, Africa. She has married her love of the arts with humanitarian endeavors including production of St. Paul's Catholic Church Intercultural Concerts in the wake of 9/ll. She has received a SHEroe Award from Councilman Curren Price, the Golden Halo Humanitarian of the Year, Civic Leadership Woman of the Year, and most recently the Golden Halo Entertainer of the Year Award from the Southern Calif. Motion Picture Council, a group composed of legendary entertainers such as Margaret O'Brien and the late Mickey Rooney. 2012 she wore the title of Ms American Showbiz.
Carmelita Pittman is a U.S.C., Pepperdine graduate, world traveler, of multi-cultural heritage,bilingual, visual and performing artist. A former award winning L.A.U.S.D. art educator, she led her students to art scholarships and awards, produced school wide events.

This photo is with Michael Bush, who was honored by SCMPC. Michael was the designer of the wardrobe and costumes for Michael Jackson. This 30 x 40 oil collage portrait is of him which Carmelita created especially for the book signing for Gloria Berlin, one of Carmelita's board members for The Rose Breast Cancer Society. Gloria is the realtor who sold him Neverland Ranch and has been a guest on ActorsE Chat Show. Gloria's book is entitled, "In Search of Neverland" and the forward includes an acknowledgement to The Rose Breast Cancer Society.
The Rose Breast Cancer Society Webpage
Lisa Cohen
Author

Lisa R. Cohen is an Inspirational Speaker, Life Enhancement Coach and Writer. Lisa is CEO of Sparkle Press, a noted speech-language and cognitive therapist, brain injury rehabilitation specialist – and author, has turned to Kickstarter.com to raise funds for the production, marketing and distribution of her first book, "Grace is Born."
"Grace is Born" is a beautifully illustrated poetic parable written for "sages of all ages, wearing the face of every race, talking the tongue of everyone." "Grace is Born" guides us to take each other's hands and promises us that "together we will far surpass the stance of survival and become enraptured in the dance of revival."
"When my patients are provided with ongoing opportunities to share their stories and be of service to others," shares Cohen, "they experience accelerated healing. I asked myself…if seriously ill and traumatized people can experience healing when they help others, why can't the rest of us follow their lead?"
Grace is Born, a literal labor of love, was born from Cohen's own spiritual, emotional and physical healing journey. She did not make the journey alone. Along for the adventure were Judith Joseph, an internationally celebrated artist whose paintings dance with spirituality; and Lisa Kaczer, extraordinary graphic designer. Together, working from Joseph's original painting, Grace is Born's cover and interior pages came vividly to life.
In June of 2013, Sparkle Press, LLC was established to parent "Grace is Born" and derivative work. The Sparkle Press team has invested thousands of combined hours researching, writing, collaborating, posting, chatting, tweeting, attending conferences, workshops and networking in preparation for the 2014 Spring delivery of "Grace is Born."
As a therapist, Cohen truly understands the importance of accessibility and strives to ensure that her message of healing can be "read by the sighted, felt by the blind, and experienced by the deaf," hence, funds received from backers on Kickstarter.com will ensure delivery of "Grace is Born" in accessible formats including: hardback, Ebook, Braille and American Sign Language (ASL) video.
To date, Sparkle Press, LLC has invested in excess of $22,000 to bring "Grace is Born" to life. Their Kickstarter goal is to raise an additional $22,000 in the next 27 days to fund the production, marketing and distribution of Grace is Born in accessible formats. If the goal is not reached by the end of the 27-day window, all pledges are cancelled and the project will not be funded.
Visitors to the "Grace Is Born" Kickstarter.com page have the opportunity to purchase the book, artwork from the book, tickets to the Premiere Launch Party and more. Each backer will receive an invitation to join "InSparkle Compassion" on Facebook, hosted by Cohen.
"InSparkle Compassion" is a hub for "Guardians of Light" – do-gooders, teachers artists, humanitarians, friends, angels and more – to gather and channel universal love," says Cohen. "Together we will explore and identify community needs, provide and accept support and celebrate stories of compassion."
"The ability to spread the word quickly online to tens of thousands of people across the world is invaluable, says Cohen. "'Grace is Born' has a universal appeal and carries a message that transcends boundaries – something that we hope potential funders embrace."
Phred Mosbey
founder and CEO of Nuview Media, Inc
Phred was recognized for 10 years of Voting Membership, NARAS, The Grammys. Nuview Media, Inc. is a full service boutique asset creation company specializing in innovative music for film, TV & advertising, photography and video production. After an 8-year hiatus at the pinnacle of his career to care for his beautiful wife Tracy, who unfortunately succumbed to breast cancer and a brain tumor in February 2012, he is back doing what he does best producing, writing and publishing music.
HIs experience in the music industry is vast and extensive from 5 world tours with legendary artists as Earth Wind & Fire, Keith Sweat, Gerald Levert, Bel Biv Devoe, New Edition, Johnny Gill, After 7, Natasha Pearce and many others. Numerous articles observing his expertise have been noted in Billboard magazine, Electronic Musician, Mix, DJ Times, Key Issue and the Monitor.
He has put together a phenomenal group of producers, composers, musicians and engineers called The Collaborative. This exceptionally talented group have worked with music grammy legends such as Jay-Z, Mariah Carey, Jimmy Jam and Terry Lewis, Quincy Jones, Diana Ross, The Hanson Brothers, Tupac, Ray Charles, 50 Cent, Fred Hammond, Tye Tribbet and more. The Collaborative has written music for TV and Film such as, Modern Family, The Game, Husbands of Hollywood, America's Next Top Model, The World Poker Tour, Alpha 8, Nikita Blues and The Night Is Young to name a few. In addition, The Collaborative has created an exceptional music catalog with diverse genres from Rock, Country, Rockabilly, Blues, R&B, Neo-Soul, Swing not to mention Hip Hop and Jazz.
Nuview Media's experienced team of photographers and videographers has the skill and technique to make anyone or anything look stunning. Nuview Media has photographed The Pre-Grammy Toast to Music Executives, The Living Legends Foundation Awards, The HAL Awards, The Gracies, The Newport Film Festival, and other events.
Phred Mosbey on Facebook
Jacky Melikian
Ambassador at Women, Love and Peace 2016, Runway/Fashion Model actor at Fashion and Brand Ambassador Perfect Lady, Beauty Pageant 2016 at Rullywood

Jacky Melikian, the Armenian Peacemaker, is born and raised in a family of 6, in Iran. She immigrated to Belgium, in 1986, where she mastered languages, and developed a career in events marketing and communications. She worked in the healthcare industry directing global meetings and events for three decades, in Europe. She is also a Licensed Entrepreneur in Financial Services and a HIFE College Planning Consultant.
She is a God Mother of three under privileged children in Cameroon, India and Bangladesh. She is a caregiver, and supports several charity causes of which, "Fight Breast Cancer".
During the horrific earthquakes in Armenia and Iran, Jacky provided logistical support to the humanitarian organizations to help the survivors rebuild their next chapter in life. She has also organized an Armenian Live TV program in coordination with RTL TV in Belgium.
In 2014, Jacky relocated to Los Angeles, and after 43 years, she got married to her childhood sweetheart.
Jacky is a woman with many talents. She speaks 6 languages; Armenian, Farsi, English, French, Spanish and Dutch. She also has a good understanding of Italian, German and Arabic. She is a language teacher, translator, runway model, actor, singer, host and moderator. Her mission in
life is to help make dreams come true, give back to the community what she has been blessed with, and make a difference in the hearts and lives of many for years to come.
Quote from Jacky:
"People is my mission, Peace is my vision, Passion is my source, Pride is my grace, Pray is my power, Love is my engine".
With love, passion and peace for people around the world.
Jacky Melikian
---
Dawn Diaz
Ambassador Representing Puerto Rico

DAWN DIAZ is a powerful Motivational Speaker and Life Coach who merges Professional Strategies, Spiritual Principles, and Urban Flair. She is the founder of the Non-Profit Organization Milagros Day Worldwide, and CEO of Rescue Coaching LLC.
During her career as a Paramedic/Captain in the New York City Fire Department, Diaz was Commanding Officer for the Emergency Medical Services Operations and Communications Centers, she led an elite team in designing and delivering specialized trainings for 5,000 New York City First Responders on innovative ways to sort and prioritize victims during major accidents and natural disasters. In the field, she held the vital responsibility of bringing order and calm to countless situations of tragedy and chaos; including the recovery efforts of September 11th, 2001.
Dawn Diaz created Milagros Day Worldwide in honor of her mother Carmen Milagros, a victim of severe domestic violence; to provide leadership and mentorship for SURVIVORS of domestic violence, or those who grew up in an abusive household. As a child affected by Post Traumatic Stress Disorder, and losing her mom in a tragic car accident at the age of 14; Dawn has traversed a very long, painful and rewarding journey of self-discovery and healing.
Dawn Diaz is a co-author of the book Building on Greatness, the Courage to Thrive; she regularly delivers her personal growth courses Dare to Dream/Dare to Act, Happiness is a Choice, and Design Your Future in 8 Weeks; she is also the creator of The Iconic Annual Brooklyn Bridge Mother's Day Walk & Family Festival; which has become a "Must-Experience" New York City tradition.
As a multiple award-winning acclaimed Empowerment Expert and Keynote Speaker; Dawn Diaz has been a featured guest on Fox News, NBC, CNN, Telemundo and Univision; and her story has been archived in the National Library of Congress.
---
Karen Hoyos
Ambassador Representing Columbia

Karen Hoyos is a Global Transformational Leader, Celebrity coach- Speaker & Author; she is considered one of the most influential leaders in the area of personal development. Applying the principles she teaches, in just 10 months, Karen was able to reach over 40 million people through her seminars, top television show appearances, published articles, and best-selling products.
In 2009 Karen Hoyos was chosen as one of the seven most inspiring women in the United States second only to famous singer Shakira by international magazine "Siempre Mujer". She was named Hispanic Pride's "Executive Woman of the Year" in 2007 and "Humanitarian of the year 2010" by LISTA organization.
Karen Hoyos was also chosen to be the 2011 Good Will Ambassador and Face of Bulgarian Leadership Academy GLOW (Girls Leading Our World).
Proceeds from her company Karen Hoyos International, support the foundation for sexually abused children "Kids for a New Planet" in which she is the International Spokes person. Karen is also a major contributing board member to the non-profit organization "Milagros Day Worldwide" which provides personal growth and professional development to survivors of domestic violence. In addition, Karen has embarked on various humanitarian missions with the United Nations (UN), in Latin America and Africa.
Karen Hoyos' teachings have benefited thousands of individuals, Fortune 500 companies as well as enterprises specializing in finances, network marketing, investments, medicine and sales. This Colombian native inspires audiences to raise their awareness and take their lives to the next level.
Karen Hoyos was featured in the cover of International Magazines Like My Lifestyle, Bien-être and Mujer USA in 2011 and 2012. Karen is often featured as an expert guest on Spanish and English speaking networks such as NBC, Telemundo, Univision, E! Entertainment Television and CNN. She personally coaches Hollywood celebrities, athletes, politicians, entrepreneurs and has shared stages with some of the most recognized public speaking icons.
Karen Hoyos has been a special guest on many of the most famous ceremonies in the world like THE GRAMMY awards on 2009, 2010 & 2011 and The Academy awards best known as THE OSCARS in 2012.
Karen Hoyos is frequently sought to awaken, refresh and transform the lives of millions of people around the world.
Kakren Hoyos' Website
---
We were also entertained by
And other fab entertainers

Also in attendance Susana Koehler, and Helene Abrahim
---
At the pre-summit, we discussed:
1. Arts for Peace Awards organization announcement: 2016 is the year for WOMEN, LOVE AND PEACE.

2. The March for Peace on January 9th, 2016 in 46th States and globally, is the grand kickoff for peace movement organized by the Arts for Peace team. Proposing solutions.
3. The proposed implementation of the Think Positive World program globally in all schools. Every weekend kids and their parents write one sentence. What are they thankful for and these letters need to be hanged in each classroom. The teacher reads three letters every day for 1 minute during the week.
4. The Proposed 2 minutes a day of silence globally in all schools during the day, whatever the school decides. Implementing is the key.
5. The Proposal to get kids involved in dancing, singing, martial arts, painting and sculpture. Happy kids don't take drugs and murder people.
6. The proposed building of a self-sustainable women, children and men shelter.
Please Donate
7. The proposal to build kitchens to feed 5000 kids a day healthy food.
8. The proposal of practical solutions for Los Angeles skid row individuals. Perhaps the building of a parking lot structure in a compound, with toilets and showers.
10. The purpose of Arts for Peace Awards; created to bring peace and positive global change via the good arts.
---
VIA ARTS FOR PEACE AWARDS:
WE WILL EMPLOY PEOPLE
WE WILL CREATE GOOD NEWS
WE WILL HELP WOMEN, MEN, AND CHILDREN
WE DON'T NEED GOVERNMENT HELP ONLY HER ENDORSEMENT.
WE WANT COMBINE CULTURES MINIMIZE HATE CRIMES BRING LOVE AND PEACE VIA ARTS.
---
For more information, please visit:
The Arts for Peace Awards Website
Arts for Peace Awards on Facebook
---
The Arts for Peace Pre-Summmit coverage by Actors Reporter, a channel on the Actors Podcast Network, a Pepper Jay Production.

PepperJayProductions.com
Tags: 4, actors, Artists, Carmelita Pittman, Carol Froehlich-Hull, Chef Anina, David Young, Dawn Diaz, Debra Anteau, Debrah Anteau, Effie Michaels, Esterleon, Ewart Chin, Facebook, Helene Abrahim, Ike M.I. Khamisani, Ilayas Quraishi, Jacky Melikian, James Pasqual Bettio, Javid Pymanee, Joel Diamond, Karen Hoyos, Keith Mitchell, Lisa Cohen, Mark Geroux, Mukesh Kashiwala, Munni Irone, Network, Niti Sunder, Nutan Dabholkar Kalamdani, Olga Nabokina, Peace, Pepper Jay, Phred Mosbey, podcast, Pre-Summit, Production, Rebecca Holden, Reporter, Richard Anteau, Rosalyn Kahn, Schwartz, Songwriting Shane, Susana Koehler, Tayler, Tehrah, Website
Leave a Reply
You must be logged in to post a comment.