Red Carpet – EZway Magazine Pre-Release Event
Your Host Laci Kay
Published: Monday, December 28th, 2015


eZWay Broadcasting, INC hosted the 2016 ezWay Magazine pre-release!

---
On a rainy day, the EzWay Magazine Pre-Release Event had a turn out of 150 + versatile entertainer attendees. Singer and Actress Laci Kay hosted the red carpet for Actors Reporter.

---
---
Performances by American Idol Personality Mary Desmond, Award winning rock artist Reesi Rocca, singer Mary Desmond, Award winning singer Carmelita Pittman, Pop Sensation and actress Laci Kay, Actor Rudy Young Blood on Flute, and Moe Rock and finalizing the evening Grammy recognized artist Tehrah.

Speakers included, Larry Namer, Mac Africa, Shellie Hunt, and Steve Resnik.

Steve Resnik was also honored with the 2015 eZWay Achievement Award. Honoring ceremony was hosted by president of the Multicultural Motion Picture Association Jarvee Hutcherson.

---
There were 7 recognizable actors and artists, many b2b CEO professionals, millionaires & billionaires, beauty pageant contestants and winners.
Honorees included: eZWay Team members Sophia Alverez, Dante Obligacion, Diego Medrano, David Andrews, Jose Beltran, Amber Martinez, Arturo Brenes, Sarah G. and Moe Rock.

---
Announcements included the new eZWay APP by Manny's Apps, The pre-unveiling of eZWay. This event was to celebrate the first Magazine January Issue for eZWay Magazine and the mobile app possibilities. eZWay.tv going live for the first time, had the guests and spectators jaws dropping and minds thinking wow! he did it.

Michael St. John first black director for NBC was announced joining eZWay Magazine as associated editor and eZWay Radio's new shows included LIVE TODAY hosted by John Johnson and Dr. Estella Sneider, Beauty Pop hosted by Miss North America United Nations Amber Martinez were also in the the announcement line up. Hopetour.org seemed to be the 2016 cause related project focus by eZWay Broadcasting founded by James Zuley.

---
The EZway Magazine Pre-Release was CATERED BY celebrity chef "CHEF ANINA" The food was amazing!

---
From 2005-2015, Eric Zuley has been connecting like minded individuals by interviewing, attending events, and following up on social media. For years, people have been telling him he should do a magazine. Soon after WhatUNeedTV, GME Experts, WTVNetworks, was born Eric created the eZWay Broadcasting Network. Many people have been wondering what he has been building all these years and why?

eZWay Broadcasting, INC the Multicultural Motion Picture Association & the city and county of Los Angeles will be honoring Steve Resnik former executive vice president of promotion director at EMI Records for his out standing contributions to the music community.
---
Quote by C.E.O. Dr. Moe Rock VIP guest attendee:
With the event now behind us it is clear that EZ WAY broadcasting and all of the members of our organization are heading into 2016 with allot of love and positive energy in our circle. This launch was a blessing and the charity organizations that we helped support collectively are all very grateful of all of the contributions of our wonderful team.
---
The EZway Magazine Pre-Release Event was held at a private estate in Hollywood Hills, California.
---
The evening was hosted by Eric Zuley: On of the Top Ten Most Influential People on Twitter Media Mogul & CEO/FOUNDER of eZWAy Broadcasting, INC

Ask Eric about the EZ WAY ACCESS MEMBERSHIP: "eZWay helping our subscribers connect to the best of the best Eliminating the stress"
---
SPEAKERS at the EZway Magazine Pre-Release Event included LARRY NAMER, STEVE RESNIK, SHELLIE HUNT, JAMES ZULEY, JONNY VEGAS NAMER, MAC AFRICA, and MOE ROCK.

---
eZWay Broadcasting Multicultural Motion Picture Association Los Angeles City and Council HONOREES conducted by Jarvee Hutcherson were:
SOPHIA ALVEREZ, DANTE OBLIGACION, DIEGO MEDRANO, DAVID ANDREWS, ARTURO BRENES, AMBER MARTINEZ, SARAH GALIATSATOS, MANNY LOPEZ, CHEF ANINA, and JOSE BELTRAN.
---
eZWay.TV Shot live Produced by DIGI TEK MEDIA GROUP

---
For additional photos from the EZway Magazine Pre-Release Event, visit Wire Image
---
SPONSORS:
OPERATION CONFIDENCE, BILLIONAIRES ELITE VIP, CHEF ANINA CATERING, CMT PRODUCTIONS, FORTUNE GAZETTE MAGAZINE, EDMTV, and THE GOOD PIZZA

---
EVENT Beneficiary:
Women Of Global Of Change – WGC

---
"I want to thank everyone that made the time to show up and everyone at home that enjoyed the event broadcasted live. I am just a humble vehicle for others success and quite frankly am not much without my team of supporters" Love you all, by Eric Zuley
---
Media coverage by: ACTORS REPORTER, FAITHY J ENTERTAINMENT, FVM GLOBAL MAGAZINE, AVE ENT. LIVE, WIRE/GETTY IMAGE, FORTUNE GAZETTE MAGAZINE, SOUL CENTRAL MAGAZINE/TVm FAN TV, EDMTV, and more.

---
---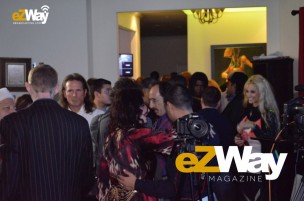 ---
Connect with eZWay Broadcasting
* http://ezwaybroadcasting.com
* http://Facebook.com/ezwaybroadcasting
* http://Twitter.com/ezwaybroadcast
Download the eZWay App Free or visit
* http://ezwaymobile.com
See more at ezWay Magazine Mobile App
and at www.ezwaybroadcasting.com
---
The EZway Magazine Pre-Release Event Red Carpet 2015 coverage by Actors Reporter, a channel on the Actors Podcast Network, a Pepper Jay Production.

Tags: Achievement Award, actors, actors reporter, actress, Amber Martinez, ANINA, App, Arturo Brenes, Association, AVE ENT. LIVE, Beauty Pop, BILLIONAIRES ELITE VIP, broadcasting, california, Carmelita Pittman, Chef, CHEF ANINA CATERING, CHEFANINA, Dante Obligacion, David Andrews, Diego Medrano, DIGI TEK, EDMTV, Eric Zuley, Estella Sneider, event, EZ Way, EZway, eZWay.tv, Faithy J, FAITHY J ENTERTAINMENT, first black director for NBC, FORTUNE GAZETTE MAGAZINE, FVM GLOBAL MAGAZINE, GME Experts, Hollywood Hills, Honorees, Hope Tour, James Zuley, Jarvee Hutcherson, John Johnson, John Michael Ferrari, JONNY VEGAS NAMER, Jose Beltran, Laci Kay, Larry Namer, LIVE TODAY, Mac Africa, Magazine, MANNY LOPEZ, Mary Desmond, MEDIA GROUP, Michael St. John, Miss North America, Mobile App, Moe Rock, Most Influential, Motion Picture, Multicultural, Network, OPERATION CONFIDENCE, Pepper Jay Production, podcast, Pop Sensation, pre-release, radio, red carpet, Reporter, Rudy Young Blood, Sarah G., SARAH GALIATSATOS, Shellie Hunt, Singer, Sophia Alverez, SOUL CENTRAL MAGAZINE/TVm FAN TV, Steve Resnik, Team members, Tehrah, Top Ten, Twitter, United Nations, WhatUNeedTV, WIRE/GETTY IMAGE, WTVNetworks
One Response to "Red Carpet – EZway Magazine Pre-Release Event"
Leave a Reply
You must be logged in to post a comment.