Crowd-Funding for Movie Projects with director host Roxy Shih
Your Host Roxy Shih
Published: Tuesday, November 12th, 2013


Hi, I'm Roxy Shih from the Actors Reporter. Welcome to our special on Crowd-Funding for film projects: focusing specifically on an overview of Kickstarter and Indiegogo.
Crowd-funding (no sometimes called crowd financing, equity crowd-funding, crowd-sourced fundraising) is the collective effort of individuals who network and pool their money, now usually on the Internet, to support efforts initiated by other people or organizations.
Crowd-funding is used in support of a wide variety of activities, including disaster relief, citizen journalism, support of artists by fans, political campaigns, startup company funding, motion picture promotion, free software development, inventions development, scientific research, and civic projects.
Today, Actors Reporter explores crowd funding for the raising of money to make films.  Our focus is on 2 internet sites: Kickstarter and Indiegogo. Both  Kickstarter and Indiegogo are new ways to fund creative projects.
---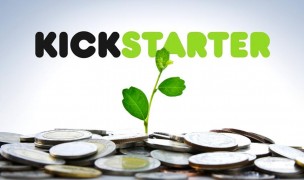 Let's take a look at Kickstarter first.
Kickstarter provides a home for everything from films, games, and music to art, design, and technology.  Since Kickstarter's launch in 2009, 5 million people have pledged $840 million, funding 50,000 creative projects.
Each project on Kickstarter is independently created.  The filmmakers, musicians, artists, and designers you see on Kickstarter have complete control over and responsibility for their projects. Kickstarter is a platform and a resource; Kickstarter does not get involved in the development of the projects themselves. Anyone can launch a project on
Kickstarter as long as it meets the Kickstarter Guidelines.
Project creators on Kickstarter set a funding goal and deadline. If people like a project, they can pledge money to make it happen. Funding on Kickstarter is all-or-nothing — projects must reach their funding goals to receive any money. All-or-nothing funding might seem scary, but it's amazingly effective in creating momentum and rallying people around an
idea. To date, an impressive 44% of projects have reached their funding goals on Kickstarter.
Creators of projects on Kickstarter keep 100% ownership of their work. Backers are supporting projects to help them come to life, not to profit financially. Instead, project creators offer rewards to thank backers for their support. Backers of an effort to make a book or film, for example, often get a copy of the finished work. A bigger pledge to a film project
might get you into the premiere — or a private screening for you and your friends.
Kickstarter is an independent, 69-person company, based in New York City. They spend their time making Kickstarter answering questions from backers and creators.  If a project is successfully funded, Kickstarter charges a 5% fee to the funds collected.
---
Kickstarter's rival, Indiegogo , is also a crowd-funding platform where people who want to raise money can create fundraising campaigns. Indiegogo is also a place to discover what people all over the world are passionate
about and how to get involved.
Indiegogo distinguishes itself by advertising that allows you to make whatever money you raise even if you don't reach your goal. On kickstarter, it all or nothing- u have to raise all of the money or else you don't make a penny if you don't.
Also, Indiegogo has no application process and no up-front fee.  People all over the world use our industry-leading platform to raise millions of dollars for all types of campaigns.
Basically, there is, however, a fee to Indiegogo on any money that is raised, which is 4% of the money raised if you meet your goal or 9% if you do not meet your goal.
At Indiegogo, creating a campaign is fairly simple. Tell people what you are doing, how they can help and what unique perks they'll get for becoming contributors. You keep 100% ownership of your campaign and you don't owe Indiegogo a cent until you raise money.
Indiegogo has a customer happiness team to make sure you have the support you need any time of day. Indiegogo Campaign Basics
Also, Indiegogo provides powerful social media tools when you launch your funding campaign and start sharing, tweeting, and encouraging people to 'like' your campaign to boost your gogofactor. Raise it enough and you could be featured on the Indiegogo homepage or in the press!
Indiegogo is an international platform, so anyone with a bank account can start a campaign.  But they do not, however, allow campaigns from countries on the U.S. OFAC sanctions list.
---
Crowd funding has been around for a long time. Mozart, Beethoven, Whitman, Twain, and other artists funded works in similar ways — not just with help from large patrons, but by soliciting money from smaller patrons, often called subscribers. In return for their support, these subscribers might have received an early copy or  special edition of their work.
---
Projects for crowd funding span from the very large to the challenging to the beginning projects. For example, The Veronica Mars Movie Project, listed a goal of $2 million dollars. After 91,585 "backers" donating money to the project, they raised $5,702,153, more than twice what they had sought. The Veronica Mars project received contributions from people in over 21 countries and it was the fastest project to reach both the $1million dollar mark and also the $2million dollar mark. All backers received Veronica Mars movie stickers and those that pledged more than $25 received Veronica Mars T-shirts, and, many other incentives. For example, for a pledge of $3,000 or more, backers were able to be a featured background extra in the Veronica Mars movie.
On of my favorite projects on Kickstarter is The Siren. My favorite because it was my project … yes me! I was seeking the sum of $5,000 and, after 47 backers, received $5,577. The Siren is about an old, homeless man dreams of his past relationship with a mermaid, and how her greed for knowledge beyond her limits corrupted her. My goal was to make the powerful visual experience on screen and I gathered a group of talented artists specifically for the artistic delivery of that project. While The Siren is making the film festival circuit, you can see excerpts of The Siren on YouTube.
Another example of using crowd funding is for beginning actors and film-makers. For example, students of the acting school AMC Talent in Florida, owned by actress Ann Marie Crouch (who you might remember as Princess Shayla in the Power Rangers). These students sought %6,500 to make The Actor Factor, a comedy/drama web series. The Actor Factor will be about a vivacious group of eccentric women try to bust into showbiz after a talent agent hangs out a shingle on Florida's Emerald Coast. After 102 backers pledged money, The Actor Factor raised $6,850, just reaching their goal and the last moment. With a pledge of as little as $10, backers will receive a digital copy of the entire webseries AND thank you card signed by principal cast and crew. And, of course, the higher the pledge, the higher the gifts.
---
Using the surplus of technology available to us today, society has transformed crowd-funding into a vehicle of hope for people going through a tough time, or those who have a dream they need help achieving.
So you see, crowd funding can be successful for just about anyone.
I'm Roxy Shih for Actors Reporter. Thank you for joining us for this special look at crowd funding for entertainment projects. See you next time!
---
Crowd-Funding is a featured story on Actors Reporter, an entertainment only trade magazine and channel on the Actors Podcast Network, a Pepper Jay Production.
Tags: actor, actors, Beethoven, Crowd Funding, Factor, film, Indiegogo, Kickstarter, movie, Mozart, Network, Pepper Jay, podcast, Production, Project, raising money, Reporter, Roxy Shih, Siren, Twain, Veronica Mars, Whitman
Leave a Reply
You must be logged in to post a comment.