Blackpearl Media Group and Wisecast Cable Fall Premiere Launch Party
Your Host Danika Quinn
Published: Thursday, October 17th, 2013


Enjoy Part 1 of Actors Reporter coverage of the Blackpearl Media Group and Wisecast Cable Fall Premiere Launch Party with Actors Reporter host, Danika Quinn, and writer actor Dave Shelton, actress Emma Zerner, actress Marilyn Monrovia, actress producer writer Stephanie Drapeau, novelist Jonathan Amaret, owner of Kelly Anne Hair Products Kelly Anne, actor producer director Rich Tola, Dr. Swaraj Kaur for her Wellness Solutions, writer Tony Rosier, fashion and wardrobe stylist Fallon Seaborn, singer songwriter Rebecca Crews, singer songwriter Sahyba, and Kristy Woelfel for Serendipity Cupcakes, at the Roof Top 3100 in Los Angeles, California.

Actors Reporter Host Danika Quinn on the red carpet with Param Bedi and Jasleen Singh of Prime Winn (Watch, Shop & Earn), Eric "EZ" Zuley – the Hollywood It Guy, Larry Witherspoon Co-Founder Roscoe Media Center, singer actress T Lopez with her sister Freezy Lopez on guitar and beep-bop, TV and Radio Host Tina Michelle, singer songwriter Marcio, Priscilla Valldejuli of Mission Nutrition, Cherie Blackwell, the swamp-rock country band Trailer Park Rebels with Amber Beck, the Wisecast Cable Team including Brian Joubert, and comedian Michael Colyar.

Part 3 of Actors Reporter's coverage of Black Pearl Media Fall Launch with Host Danika Quinn on the red carpet with singer Tweet / Next, Owner of Jackson Entertainment Haskel Jackson, comedic actress Megan McGlover, director, writer, producer Ben-Hur Sepehr, singer musician Emile Welman, actress Kristen Breeden, Chef Owner of Natas Pastries Fatima Marques, Kellie Koppel of It's So LA, actress Valentina Zell, actor Lawrence Satin-Victor, and Rapper / Dyles Mavis Jay Vincent B and Eric Tucker.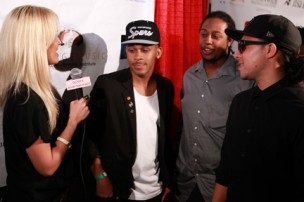 Black Pearl Media Group Inc. (BPM) is a full service entertainment company dedicated to providing diverse audio and visual entertainment on a global platform. Their goal is not only to entertain, but educate our consumers, providing positive images on-screen and celebrating all cultures in a new and exciting way.

Photos by John Michael Ferrari JohnMichaelFerrari.com
Featured Events on Actors Reporter, a channel on the Actors Podcast Network, a Pepper Jay Production.
Tags: actor, actors, actress, Amber Beck, band, Bedi, Ben-Hur Sepehr, Blackpearl, Brian Joubert, Cable, Chef, Cherie Blackwell, Chris Black, comedian, comedic actress, Country, Cupcakes, Dave Shelton, director, Dr. Swaraj Kaur, Dyles Mavis, Emile Welman, Emma Zerner, Eric, Eric Tucker, Eric Zuley, EZ, Fall, Fallon Seaborn, fashion, Fatima Marques, Freezy, Group, hair products, Hollywood It Guy, host, Jasleen, Jay Vincent B, Jonathan Amaret, Kellie Koppel. It's So LA, Kelly Anne, Kristen Breeden, Kristy Woelfel, Larry Witherspoon, launch, Lopez, Marcio, Marilyn Monrovia, Media, Megan McGlover, Michael Colyar, Mission Nutrition, musician, Natas Pastries, Network, Next, novelist, Owner, Param, party, Pepper Jay, podcast, Premiere, Prime Winn, Priscilla Valldejuli, producer, Production, radio, rapper, Rebecca Crews, Rebels, Reporter, Rich Tola, RMC, Rock, Roof Top, Roscoe Media Center, Sahyba, Serendipity, Singer, solutions, songwriter, Stephanie Drapeau, stylist, swamp, T Lopez, Team, Tina Michelle, Tony Rosier, Trailer Park, TV, Tweet, Valentina Zell, wardrobe, wellness, Wisecast, Wisecast Cable, writer, Zuley EZ