Exclusive Interview with Veteran Actress Francine York
Your Host Joe Sabatino
Published: Monday, April 23rd, 2012

Episode: 4.2
Exclusive with Francine York
Actress and long-time sex symbol Francine York reveals experiences working with Elvis Presley (Tickle Me),
Nicholas Cage (Family Man)
Marlon Brando and David Niven (Bedtime Story)
six movies with Jerry Lewis
and many others.
Some of Francine York's sexiest iconic roles include Niolani in Lost in Space

Lydia Limpet in Batman

Sabrina Kincaid in The Doll Squad

Queen Medusa in Jason of Star Command

Venus in Bewitched

and the famous stagecoach scene as Marie Du Bois in Cracking Up.

Francine's exotic belly dance for George Peppard in Canon for Cordoba put young men through puberty!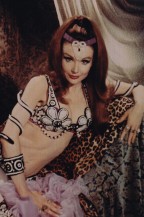 And, Francine's portrayal of Marilyn Monroe in Marilyn Alive and Behind Bars was probably the most realistic Marilyn ever, albeit in a bomb of a movie!

With over 120 movie and TV credits to her name, Francine York continues her active career recently as Evelyn in The King of Queens with Jerry Stiller, Las Vegas with Josh Duhamel, Mrs. Stanley in Miracle at Sage Creek with David Carradine, and as Aunt Bitsy in Bucket and Skinner's Epic Adventures with Glenn McCuen.
Francine York carved out a nice career for herself in cult movies, feature films, and television sitcoms in the 60's and 70's and her career shows no signs of slowing down!
Learn how dancing the belly-dance for her parents' friends at  their parties really prepared Francine for what was  to come. Her Mother told her she would go to Hollywood. Francine chats about her response to not getting the starring role in the play Cinderella in the fourth grade but the evil stepsister instead … it was the beginning of a long successful journey.
How did Francine get to Hollywood? The journey begins –Winning a local beauty contest as MISS EVELETH to compete in the MISS MINNESOTA Contest. How answering an ad for sweater models in the MINNEAPOLIS TRIBUNE started her on the journey with destiny playing a huge role. Her experience in the MISS SAN FRANCISCO BEAUTY PAGEANT and Francine's modeling at Macy dept store were major steps in her development. All in all, Francine York shares what it was like for a small town Minnesota girl to be thrust into the big-city world of sweater modeling in her late teenage years and early twenties, followed by her experiences as a showgirl in the famous Moulin Rouge and Bimbos.
Francine tells why she was a bad girl, In her first movie SECRET FILE HOLLYWOOD that is.She was greeted in her home town for the premier with banners in the street saying "welcome home Francine". Her first meeting with Jerry Lewis at Paramount studios and how nervous she was. What Jerry was really like. Talks about Nutty professor and disorderly orderly and her last film Cracking Up which she Played a French Marquese of the 15th century. Working with ELVIS in TICKLE ME Francine shares her feelings about working with such an icon as ELVIS. Francine later was invited to Graceland in 2008 arriving in a limo- Playing an Italian with Marlon Brando and David Niven in Bedtime Story for Universal pictures. How it took twenty takes for one scene with Brando. Her cult appearance in BATMAN as LYDIA LIMPET with Roddy MCDowell as Bookworm.
Francine reveals her adoration of David Niven with more behind the scenes Of Bedtime story and Marlon Brando. Playing the The Noble Niolani IN LOST IN SPACE., AND WHAT GAVE the robot his personality. Her other guests roles for IRWIN ALLEN – THE FLOOD ADVENTURES OF THE QUEEN THE FLOOD, THE NIGHT THE BRIDGE FELL DOWN LAND OF THE GIANTS PLAYING THE QUEEN MEDUSA on JASON OF STAR COMMAND. Her guest starring on WILD WILD WEST despite Robert Conrad being shorter than her. How a producer discovered her a UNIVERSAL STUDIOS which led to Name of the Game and Run for your Life –Ironsides and many more. Her Italian peasant girl role at Warner Brothers and how she prepped for it in GALLANT MEN.
How entertaining at her parents parties doing the belly dance influenced her later life, which came in the form of CANON FOR CORDOBA in WHICH SHE GYRATES with a very sexy belly-dance wearing a pearl in her belly button. How shooting Canon In Spain changed her life. Her bedroom scene with George Peppard in the movie and how nervous she was. Behind the scenes with Nicolas Cage in FAMILY MAN and what he was really like.Her reaction to Director Brett Ratner. Her switch to comedy again in TV series KING OF QUEENS with Jerry Stiller and how she got the job in the role of Evelyn.And the challenging role of her life to play MARILYN MONROE In MARILYN IS ALIVE AND BEHIND BARS and her preparation for the part in hopes it would do justice to MARILYN'S Memory. Francine chats more about her part as Marilyn and has posted clips at
ActorsE Chat
WATCH FOR FRANCINE YORK – guest starring role on "Hot In Cleveland," airing May 30th, in episode entitled: "What's Behind The door?" Francine plays Lady Natalie, A British Soap Opera star!
Thank you Francine York for taking the time out of your busy schedule for this exclusive interview of your life. We look forward for more to come!
Interviews is a show on Actors Reporter, a channel on the Actors Podcast Network, a Pepper Jay Production.
Tags: actor, actors, actors reporter, Bedtime, Behind Bars, belly dance, Bimbos, Bookworm, Brett Ratner, Bucket, california, Canon for Cordoba, Cracking Up, David Carradine, David Niven, Elvis Presley, Epic Adventures, exclusive, Family Man, Francine York, Gallant Men, George, Glenn McCuen, Graceland, hollywood, Hot in Cleveland, interview, Ironsides, Irwin Allen, It's Only Money, Jason, Jerry Lewis, Josh Duhamel, Las Vegas, Los Angeles, Lost in Space, Marie Du Bois, Marilyn Alive, Marilyn Monroe, Marlon Brando, Miracle, Miss Eveleth, Miss Minnesota, Miss San Francisco, Moulin Rouge, Name of the Game, Network, Nicholas Cage, Niolani, Peppard, Pepper Jay, podcast, Production, Productions, Reporter, Robert Conrad, Roddy McDowell, Run for Your Life, Sage Creek, Secret File, Skinner, Star Command, Story, Tickle Me, What's Behind the Door?, Wild Wild West
6 Responses to "Exclusive Interview with Veteran Actress Francine York"