Exclusive Interview with actor artist Peter Mark Richman
Your Host Danika Quinn
Published: Thursday, November 1st, 2012


Peter Mark Richman shares his acting career, his art, and his writings with Actors Reporter's Danika Quinn.

Peter Mark Richman shares his struggles with family opposition in Philadelphia to his choice for a career as an actor and as an artist and his passion for playing football. Peter began his painting with little sketches and only his sister would encourage him to follow his dreams as he went to art school at 9 years old. Peter's medium is mainly oil and watercolor.

And Peter paints with a "mouse" in what he calls "computer art:"

Peter has sketched and painted many working actors including Sofia Loren, Martin Landau, Bernadette Peters, and John Amos, just to name a few.
Peter Mark Richman talks about the beginning of his career on stage and his first film, "Friendly Persuasion" with Gary Cooper, and his series regular role on "Dynasty."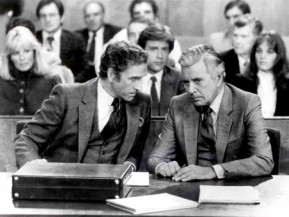 Peter also shares some about his Navy days and his radio and abundant stage experience.

Peter Mark Richman explains how he met his wife Helen 2 summers before he toured with Summer Stock with Eva Marie Saint. Helen was the lead at the Grove Theatre. Peter and Helen eventually did 14 plays together.
Peter Mark Richman shares his excitement about receiving a telegram that he was hired for $35/week for Second Business, enjoying his wife, Helen, and Peter's enjoyment of singing and studying with Lillian Goodman. Peter shares what it was like to write and star in 4 Faces, the joy of his children, and his roles on Star Trek, Three's Company, Santa Barbara, and dozens of other TV shows.

Bio
Born in Philadelphia Pa; son of Benjamin, a painting and paper-hanging contractor and Yetta Dora (Peck).
Richman married Helen Theodora Landess (an actress), 1953; children: Howard Bennett, Kelly Allyn, Lucas Dion, Orien, Roger Lloyd.
EDUCATION: South Philadelphia High School, 1945. Captain and fullback of the city championship football team, 1944. Philadelphia College of Pharmacy and Science, B.S., pharmacy, 1951 (now called The University of the Sciences) and is a registered pharmacist. Studied acting with Lee Strasberg, 1952-54.
Assumed spiritual first name, Peter, 1971. Active in spiritual association of Subud since 1959.
CAREER: Actor. Actors Studio member beginning in 1954. Motion Picture and Television Fund, member of board of trustees. Licensed pharmacist in Pennsylvania and New York. Painter, with works exhibited in solo and group shows and in permanent collections throughout the United States. Military service: U.S. Navy, 1945-46. Played football in the Eastern Pro Conference, 1946-47.
MEMBER: American Federation of Television and Radio Artists, The Screen Actors Guild, Actors' Equity Association, Academy of Motion Picture Arts and Sciences, Academy of Television Arts and Sciences, Motion Picture and Television Fund. (Board of Trustees).
LISTED: Who's Who in America, Who's Who in the world; Who's Who in the West, Who's Who in Entertainment.
AWARDS & HONORS: Athletic Hall of Fame Award, South Philadelphia High School Alumni Association,1985. Silver Medallion, Motion Picture and Television Fund,1990 for outstanding humanitarian achievement. (he was chairman of the building committee that built the 25 million dollar hospital; and the complete renovation of the Alzheimer wings); Sybil Brand Humanitarian Award, Jeffrey Foundation, 1990. Drama-Logue performance award 1995 for his one -man show "4 Faces." Golden Halo award (Southern California Motion Picture Council) 1997.
In 2002, his film 4 FACES received a nomination for the Prism Award.
In 2004 he received the Lifetime Achievement Award from the Southern California Motion Picture council, and in 2009, they gave him an award for his performance in THE DESPERATE .
Also in 2009 The Film Advisory Board presented him an "Award of Excellence" for THE DESPERATE and "Outstanding Contributions to the World of Entertainment."
For all of the film and TV credits for Peter Mark Richman, please visit his IMDb page
Interviews is a show on Actors Reporter, a channel on the Actors Podcast Network, a Pepper Jay Production.
Tags: 4 Faces, Achievement, actor, artist, Award of Excellence, Danika, Dynasty, Entertainment, Eva, Friendly, Gary Cooper, interview, Jay, Lifetime, Marie, Mark, Motion Picture and Television, Network, Pepper, Persuasion, Peter, podcast, Prism Award, Quinn, Reporter, Richman, Saint, The Desperate