Entertainment Industry Related Events October 2011 with Mary Jo Gruber
Your Host Mary Jo Gruber
Published: Friday, September 30th, 2011


September 28th – October 9th – London's 19th Raindance Film Festival in London, England. Visit www.raindance.co.uk for all of the details.

October 1st – Light The Night Walk. Each year, in communities all across the United States and Canada teams of families, friends, co-workers and local and national corporations come together to raise funds for The Leukemia & Lymphoma Society bringing help and hope to people battling blood cancers. The Light The Night Hollywood walk route will be along the sidewalks of the historic Hollywood Walk of Fame. Festivities begin at 5PM and the walk at 7PM, rain or shine. http://www.lightthenight.org/los/

October 6th – 20th – The 47th Light The Night Walk Film Festival. This year's crop of talented new filmmakers will take you on a provocative and touching journey to lands near and far. They could very well become the next Martin Scorsese, Peter Weir, Mike Leigh or Bertrand Tavernier, themselves among dozens of directors who also showed their first film at the Festival. Visit www.chicagofilmfestival.com

October 7th – The Group Rep at the Lonny Chapman Theatre Presents Agatha Christie's "And Then There Were None," directed by Shira Dubrovner. This superlative mystery comedy play is sure to keep you guessing. The excitement never lets up in this classic murder mystery. For tickets and more information visit http://www.thegrouprep.com/default.asp?Link=1
>

October 14th -18th – The DC Labor Film Fest leads off with a 35th-anniversary screening of the classic ALL THE PRESIDENT'S MEN starring Robert Redford and Dustin Hoffman. For more information, visit dclaborfilmfest.org
Oct 16th – 27th – Annual AIDS Walk Los Angeles. AIDS Walk Los Angeles makes it possible for APLA to provide urgently needed food, dental care, safe housing, and much more to people with HIV/AIDS who also face poverty, hunger, and homelessness. APLA also runs the county's largest network of HIV prevention programs to end the epidemic in Los Angeles. Please visit www.aidswalk.net/losangeles for details.
Oct 16th – "Kat Kramer's Films That Change The World" Presents "Teach Your Children Well." A film about Homophobia, Bullying and School Violence, narrated by Lily Tomlin, at Sunset Gower Studios, Hollywood. For informtion or reservations pls call 310-806-1346
KNK Productions inc,and the
Stanley Kramer Library
Off 818-760-3106
Fax 818-760-2478
KNK Productions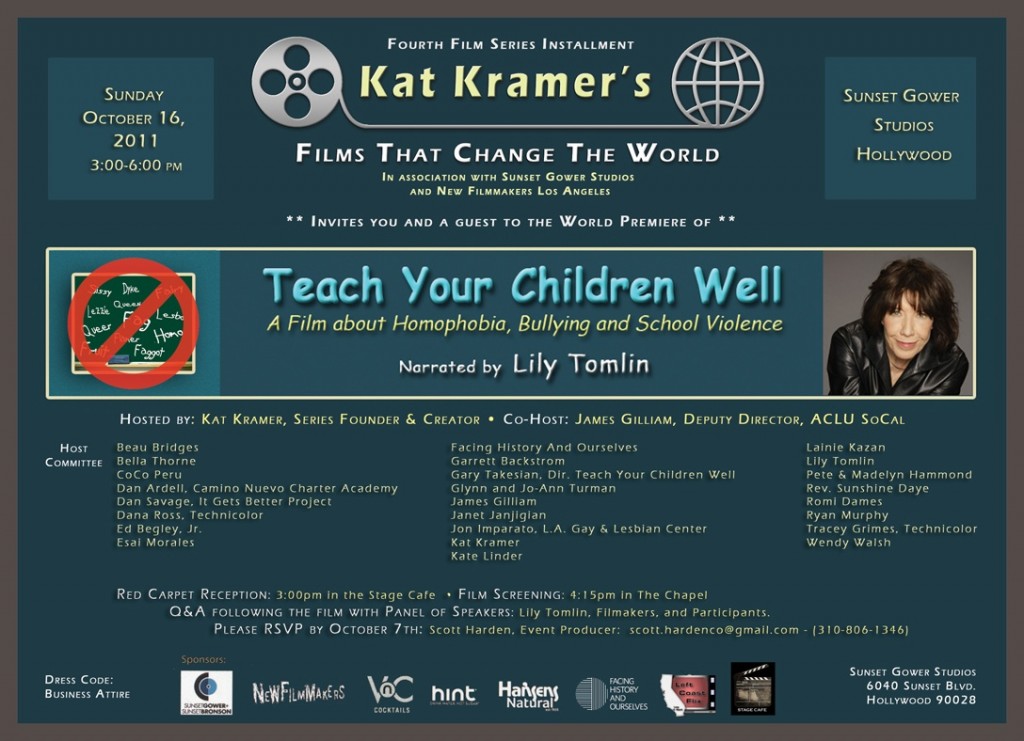 October 20-23 Ojai Film Festival, Ojai, California. Ojai Film Festival

October 22nd – 30th – The 24th Tokyo International Film Festival. As the only Japanese film festival accredited by the International Federation of Film Producers Associations (FIAPF)*1, TIFF has played an integral role in Japan's film industry and cultural scene since its establishment in 1985. http://2011.tiff-jp.net
October 23rd – ActorFest NY by Back Stage at the Metropolitan Pavilion in New York City. For all of the festival details, visit www.BackStage.com
October 23rd – Bowling for Boobies. Bowling for Boobies is a fundraising event to help provide financial assistance to local women who are experiencing financial challenges as the result of fighting and living with breast cancer. You don't have to be a good bowler in order to participate. 
All you really need is a little enthusiasm and the desire to raise money for our important cause! Bowling for Boobies will be held at Jillian's on Universal City Walk, CA http://bowlingforboobies.com/
October 24th – 25th – The Hollywood Reporter and Billboard join forces to deliver a cutting-edge, two-day seminar on the role of music in film and television. Now in its 10th year, this Conference offers attendees the unique opportunity to learn from, network and expose their music directly to the best music supervisors, composers, directors, music editors, songwriters and producers in the business. The event also provides a dynamic forum for the exchange of ideas – featuring roundtable discussions, and other networking cocktail parties and sessions. At the Renaissance Hollywood Hotel, Los Angeles, CA  www.billboardevents.com/billboardevents/index.jsp
October 27th – November 4th – International Rome Film Festival. The event, which takes place in the Auditorium Parco della Musica and other areas around Rome, has hosted great international premieres,  world class actors and directors, encounters with the public, documentaries, retrospectives, exhibits, concerts and live shows. Through its Business Street, the Festival brings together industry professionals, encourages the sale and distribution of audiovisual products and promotes independent cinema production. http://www.romacinemafest.it
October 28th – Costume Halloween Party with oldies band Ferrari & Friends at Marina City Club. Contact pepper@actorsreporter.com for reservation.

October 31st – The West Hollywood Halloween Carnaval. The largest Halloween street party in the world happens in West Hollywood. Each year, more than 500,000 people take to the streets of Santa Monica Boulevard to enjoy the craziest, most eccentric costume creations ever. The big draws of the evening are the Halloween Costume Contest and crowning of an Honorary "Queen of the Carnaval." Visitors can also expect fantastic live entertainment, food vendors, pumpkin-carving contests and children's activities throughout the week previous. Admission is free and the event starts at 6 PM and runs until 11 PM. http://visitwesthollywood.com
AUDITIONS: NOVEMBER 8TH AND NOVEMBER 11TH FOR OCTOBER 2012 MUSICAL.

ATTENTION ACTORS & PERFORMERS AGES 60+

Senior Star Power Productions and Rockin' With the Ages in collaboration with Writer – Director – Choreographer Cate Caplin and Musical Director Susan Calkins will be auditioning talent for a new show!

This World Premiere Musical will open October 4th, 2012 at the Theatre Arts/Arena Theatre, 1647 North Las Palmas, Hollywood, California 90028. It will run for 6 weeks under an AEA 99 Seat Plan Contract

This Hollywood inspired musical extravaganza will be written and designed specifically for the performers cast, so they are inviting singers, dancers (all types), musicians (any instrument), comics, celebrity impersonators, burlesque, country, specialty artists, and vaudevillians, 60 years young and older to audition November 8th at the Pink Lady's Studio, 23501 Dolorosa St., Woodland Hills, 91367 from 3pm-9pm and November 11th at TBD in Hollywood from 9am-5pm.
Call 818-606-6679 or email pinklady7@earthlink.net to make an audition appointment.
Tags: 2011, ActorFest NY, AIDS Walk, ALL THE PRESIDENT'S MEN, And Then There Were None, back stage, Billboard, Bowling for Boobies, bullying, calendar, Carnaval, Chicago, Costume Halloween Party, Dustin Hoffman, England., Events, Ferrari & Friends, film festival, hollywood reporter, homophobia, International, Light The Night Walk, Lily Tomlin, London, Lonny Chapman Theatre, Los Angeles, Mary Jo Gruber, Metropolitan Pavilion, New York City, October entertainment, Parco della Musica, Raindance, Renaissance Hollywood Hotel, Robert Redford, Rome Film Festival, school violence, Shira Dubrovner, Sunset-Gower, Teach Your Children Well, tv and film
2 Responses to "Entertainment Industry Related Events October 2011 with Mary Jo Gruber"
Leave a Reply
You must be logged in to post a comment.