Highlights of Entertainment Industry Related Events April 2011 with Mary Jo Gruber
Your Host Mary Jo Gruber
Published: Monday, March 21st, 2011


Through April 20th: "Come Sundown" presented by The Ruskin Group Theatre, a new play by Anthony F. Cronin, Fridays and Saturdays at 8p, and Sundays at 2p, Santa Monica, California

The Ruskin Group Theatre
Sunday April 3rd through Sunday April 10th: The Kennedys on Reelz Channel.
The Kennedys on Reelz Channel

Now taking submissions for Oaxaca Film Fest 2011. For more information on this November 2011 festival, please visit Oaxaca Film Fest

To April 3rd – Wisconsin Film Festival 2011. With 209 films this year's, it can be a daunting task to whittle down your list to a manageable weekend full of movies. How do you choose? Well, it's the perfect opportunity to explore and be adventurous. Try a war documentary like Armadillo, an art-house specialty like Le Quattro Volte, or an action picture like Hong Kong's The Stool Pigeon. www.wifilmfest.org
April 8th – 9th: Stand Up Comedian Brett Walkow at the Improv Comedy Club at Fantasy Springs Resort Casino, with headliners Billy D. Washington and Ronnie Schell. 9pm Friday and 8p and 10p Saturday. Indio, California

April 9th – May 10th About Face – A New Perspective on Photographic Portraiture.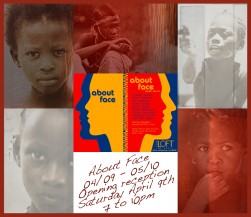 Featuring the photographs of Franklin Londin, Aline Smithson, Tim Sabatino, Anna Stump, Ted Meyer, Wahb Mabkhout, Pascal Giacomini, and Stephane Tourne.
The Loft at Liz's
453 S. La Brea Ave
Los Angeles, Callifornia
Opening: April 9th 7:00 PM – 10:00 PM
For more information about photographer Stephane Tourne, please visit Models Best Friend
April 9th – 14th – 2011 NAB Show in Las Vegas. On April 11th, Filmmaker James Cameron and acclaimed cinematographer and CEO of PACE, Vince Pace, will deliver the opening keynote address. Cameron, the creative force behind the two highest grossing motion pictures of all time, and Pace, a world-renowned visual effects visionary and 3D innovator, will discuss recent developments and innovations in 3D technology and storytelling and future implications for the entertainment industry at large. www.nabshow.com
April 11, 2011 to April 13, 2011: American Cable Associations
18th Annual Summit
Hyatt Regency Washington on Capitol Hill; Washington, DC


A forum highlighting the special role that independent cable operators play in providing state-of-the-art communications services in some of the most remote corners of the country.
April 12th – 7:30p Conversation with Jonathan Handel, Entertainment Attorney and Author of "Hollywood on Strike: The Past, Present, and Future of Hollywood Unions," at Southwestern Law School, Los Angeles, CA. There is no charge to attend, but RSVP is requested: 213-738-6602 or institute@swlaw.edu

April 12th-17th – 9th Annual Indian Film Festival of Los Angeles (IFFLA) at the ArcLight Hollywood in Los Angeles, California . The six-day fest will once again bridge the gap between the two largest entertainment industries in the world, showcase over 40 films from or about India, host the highly anticipated gala events, bring back the wildly popular "Bollywood by Night" film section, and feature live music and dance performances. www.indianfilmfestival.org
April 14th: Release of the Brandon James EP "Down In The Sand" (along with the first music video)
celebrating at Harper's Bar, 5545 Reseda Boulevard, Tarzana, California 91356

Follow Brandon James on Facebook
Saturday, April 16 | 7:30 p.m.
Gordon Getty Concert: Metropolitan Opera Artists
Members of the Metropolitan Opera—some of classical music's most distinguished performers—present stunning German Romantic compositions by Franz Schubert and Robert Schumann.
Experience extraordinary solo and duet performances by clarinetist Anthony McGill with the rich voices of bass-baritone Terry Cook and soprano Monica Yunus and bravura pianist Caroline Stoessinger.
The concert complements the exhibition Spirit of an Age: Drawings from the Germanic World, 1770–1900, which features beautiful German and Austrian drawings made during a century of dramatic change.
Tickets $20; students/seniors $15.


The Getty Center and Clarinetist Anthony McGill
April 17th: Scenes of City Life
FREE Screening of China's First Musical Comedy – Film Series at the Getty at 2pm
Never before shown outside China, director Yuan Muzhi's innovative fantasy uses live action, still photographs, animation, sound, and even a peep show to depict the love triangle between a pawnshop owner's daughter and two young men from opposite economic classes in 1930s Shanghai.
THE GETTY CENTER
1200 Getty Center Drive
Los Angeles, CA 90049
(310) 440-7300

April 20th – FREE CONCERT: Stephanie Simon to perform at The Alamo Bar & Grill
5:30 PM – 7:30 PM
5617 Kanan Rd., Agoura Hills, CA 91301
(818) 889-5092
Stephanie Simon's Website

April 20th-May 1st – Tribeca Film Festival. New York. Picasso once said, "Art washes away from the soul the dust of everyday life." So what could be a better gift for one artist to give another? This is precisely the idea behind Tribeca Film Festival's Artists Awards program: the presentation of original paintings, photographs, prints and sculptures to the filmmakers whose works are selected as winners by the Tribeca Film Festival jury. The 2011 Film Guide is available online now. www.tribecafilm.com
April 28th-May 5th – The Newport Beach Film Festival. Set in beautiful Newport Beach, a few blocks away from spectacular coastline and less than an hour from Hollywood, the Festival annually host several premieres and galas for a singular festival experience. In addition, the Newport Beach Film Festival offers filmgoers a rare opportunity to meet the filmmakers. Directors, screenwriters and cinematographers eager to share their work will provide an exclusive inside look at the industry during post-screening Q&A's. www.newportbeachfilmfest.com
April 28th – May 5th – Los Angeles United is coming to the Los Feliz for the fifth annual Los Angeles United Film Festival! They'll be kicking off this year's festival with a special presentation of 2001: A Space Odyssey at the historic Vista Theatre, featuring a panel with the Film Musician's Secondary Markets Fund. The festival is a diverse mix of narratives and documentaries, and check their website for more information on classic screenings, midnight movies, and short film lineup! Los Angeles United Film Festival
April 28–September 4
HOUDINI: ART AND MAGIC
Skirball Cultural Center – Los Angeles, CA
West Coast debut! Magician, escape artist, and showman extraordinaire Harry Houdini (1874–1926) has remained an object of fascination for generations. Learn why in this thrilling new exhibition of more than 150 treasures, including film clips, period posters, rare photographs, and original props used in Houdini's astonishing performances.
Learn More

April 29th: The Toyal Wedding of U.K's Prince William and Kate Middleton with 4-hour live coverage of the event by CBS, beginning at 2am PT.
April 2011 ActorsE Chat show calendar. See past shows by searching talent at Actors Entertainment*:


Fri Apr 1 Joe Sabatino chats with actor producer director Damian Chapa (Under Siege, Blood In Blood Out, Brando Unauthorized)
Monday Apr 4 Members of the band Feisty Piranhas sing and chat with comic Pritesh Shah
Tuesday Apr 5 TV, Theatre, and Film Actor Hugh Dane (Hank on The Office) chats with comic Pritesh Shah
Wednesday Arp 6 Singer Sophie Rose sings and chats with comic Pritesh Shah
Thursday Apr 7: Singer Audrey Montoya chats with comic Brett Walkow
Friday Apr 8 Actress Kelsey Scott chats with Emmy-Nominated actor Kim Estes
Mon Apr 11 Producer Peter Allman chats with host Judith Jones
Tues Apr 12 Life coach and motivational speaker Jaime Kalman chats with actress Yi Tian
Wed Apr 13 Singer Misha Rose sings and chats with Life coach and motivational speaker Jaime Kalman
Thurs Apr 14 Actor Greg Travis chats with comic Brett Walkow
Fri Apr 15 Monique Movie Reviews FAQS chats with comic; Pritesh Shah
Mon Apr 18 Actress and Model Preity Uupala chats with host Judith Jones
Tues Apr 19 Actor Silas Weir Mitchell (The Chinese Massacre) chats with life coach and motivational speaker Jaime Kalman
Wed Apr 20 Actor Cody Deal (Thor) chats with comic Pritesh Shah
Thurs Apr 21 Actress Katherine Kirkpatrick chats with comic Brett Walkow
Mon Apr 25 Actress producer Denise Jaxon (Chocolate News) chats with host Judith Jones
Tues Apr 26 Artist Manager William O'Leary chats with actress Yi Tian
Wed Apr 27 Actress West Liang (The Chinese Massacre) chats with life coach and motivational speaker Jaime Kalman
Thurs Apr 28 Comic Brett Walkow
Friday Apr 29 Actress Maggie Grant chats with actor producer Joe Sabatino
Monday May 2 Rubin Vigil, lead singer for Big Shot Reub & the Reloaders with host Judith Jones
Tuesday May 3 Actor Patrick John Hurley (Bold and Beautiful, Mad Men, Speed) and actress Yi Tian
Wednesday May 45 Actress Janelle Giumarra (Lincoln Heights, Mr and Mrs Smith)
* ActorsE is a live chat show M-F 10-11a PST on Actors Entertainment, part of the Actors Podcast Network, a Pepper Jay Production.
Tags: 2011, Actors Entertainment, ActorsE, aline Smithson, Anna Strump, Annual, April, Audrey Montoya, calendar, CBS, Chael, Cody Deal, Damian Chapa, Denise Jaxon, Entertainment, Events, Feisty Piranhas, fest, festival, film, Franklin Londin, Greg Travis, Hugh Dane, Indian, Jaime Kalman, Joe Sabatino, Judith Jones, Kate Middleton, Katherine Kirkpatrick, Kim Estes, live chat, Los Angeles, Maggie Grant, Mary Jo Gruber, Minique Movie Reviews, Misha Rose, NAB, Network, Newport Beach, Oaxaca, PASCAL GIACOMINI, Pepper Jay, Peter Allman, photographic, photographs, podcast, portraiture, Preity Uupala, Prince William, Pritesh Shah, Reelz, Royal Wedding, Selsey Scott, show, Silas Weir Mitchell, Sophie Rose, STEPHANE TOURNE, Ted Meyes, The Kennedys, Tim Sabatino, Tribeca, tv and film, UK, United, Wahb MABKHOUT, West Liang, William O'Leary, Wisconsin, Yi Tian
2 Responses to "Highlights of Entertainment Industry Related Events April 2011 with Mary Jo Gruber"
Leave a Reply
You must be logged in to post a comment.