Exclusive Interview with Russ Cootey and the actors of The Resolve
Your Host Judith Jones
Published: Monday, July 26th, 2010

Episode: 2.10
The Resolve is a psychological thriller/drama internet series helmed by director and lead actor, Russ Cootey (Twelve City Blocks, CSI).

The Resolve Cast (mobile version)
The Resolve Red Carpet (mobile version)
The Resolve Russ Cootey (mobile version)
The Resolve Les Brandt (mobile version)
The Resolve Kristina Hughes (mobile version)
The Resolve Alex Ballar (mobile version)
The premise centers around Mike Patterson (Russ Cootey), a beleaguered man, gripped by O.C.D. issues with humanity, unleashed by fiery clashes on others. He explains to his therapist Sean Miller (Alex Ballar – War Wolves) how he has found a way to deal with his compulsion, which is to kill those who he believes are responsible for the misalignment in humanity.
Also starring is Ellen Dubin (Napoleon Dynamite, The Collector, Lexx, Highlander), Kristina Hughes (Old School, Green River, Boston Legal), Anthony Ray Parker (The Matrix, Xena, The Marine), Holt Boggs (The Prodigy, Jericho), Les Brandt (Desperate Housewives,Another World, CSI Miami), Eileen Grubba (Ghost Stories, The Young and The Restless, Nip/Tuck), Craig Zucchero (Law and Order SVU, The Sopranos), Alicia Lara (Irene in Time, The Track), Savannah Rae Linz (Arizona Summer, Firehouse Dog), Sabina Akhmedova (Klub, Taxi Man), Siri Baruc (Unholy, Glass Trap, War Wolves, The Foursome), Erik Passoja (CSI Miami, Nip/Tuck, My Demon), Anne Beyer (The Last Laugh), Jake Thornton (The Bill, Heat Wave), Wolfgang Weber (Into The Darkness, Nip/Tuck, CSI Miami), and Kyle Hester (Kill Quincy Wright, Andersonville).
Also enjoy the article by Esteban "Steven" Escobar, Executive Editor-In-Chief, Publicist and Writer for Examiner.com, on The Resolve Episode 4 Film Premiere and Breast Cancer Awareness at
http://www.examiner.com/x-35747-Hollywood-Events-Examiner~y2010m6d26-More-than-600-People-Attended-The-Resolve-Episode-4-Premiere–Breast-Cancer-Awareness
For more information about The Resolve series:
101 North Victory Blvd., Ste. L221, Burbank, CA 91502
The Resolve Series
The Resolve is an ALIGNMENT FILMS Production
Directed by RUSS COOTEY
Executive Producer – RUSS COOTEY
Produced by –
RUSS COOTEY
ALEX BALLAR
KRISTINA HUGHES
Written by RUSS COOTEY and ALEX BALLAR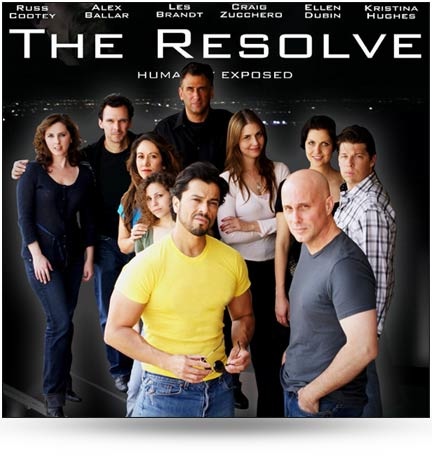 CAST:
RUSS COOTEY – Mike Patterson
ALEX BALLAR – Sean Miller
KRISTINA HUGHES – Alison Miller
ELLEN DUBIN – Megan Frost
LES BRANDT – Charlie 'BUSTER' Green
ANTHONY RAY PARKER – Det. Marcus Dobbs
HOLT BOGGS – Det. Steve Keller
EILEEN GRUBBA – Karen Martin
SAVANNAH RAE LINZ – Nicole
ALICIA LARA – Teri
CRAIG ZUCCHERO – Danny
SIRI BARUC – Jannel
WOLFGANG J. WEBER – Donnie
ERIK PASSOJA – John
JAKE THORNTON – Gerald
ANNE BEYER – Sonja
BEAU NELSON – Seth
KARINA COLON – Lauren
KYLE HESTER – Ken
Director of Photography – GARY OTTE
Sound Design – MICHAEL ARCHACKI
Edited by SKIP SPIRO
Opening Theme and End Credits Music – Rob Quillen
Original Score – BART SAMOLIS
Series Original Music by
Rob Quillen   (5 episodes, 2010)
Bart Samolis   (5 episodes, 2010)
Still Photography – TISHA RIVERA
Casting by HELEN McCREADY C.S.A
SPECIAL THANKS:
Tisha Rivera
Shirley Hunt
Brian Vermeire
Kelly Perez
Viktor Argo
Helen McCready
Actors Reporter
Busby's East
Recycled Refinery Consignment
Melie Bianco
Bad Baby Fashions
Adriano Goldschmied
Screen Actors Guild
Interviews is a show on Actors Reporter, a channel on the Actors Podcast Network, a Pepper Jay Production.
Tags: actor, actors, Alex Ballar, california, day, exclusive, hollywood, internet, interview, Jones, Judith, Kristina Hughes, la, Los Angeles, Mary Jo Gruber, Network, Pepper Jay, podcast, Productions, Reporter, Resolve, Russ Cootey, Series, Web, web series, webseries
8 Responses to "Exclusive Interview with Russ Cootey and the actors of The Resolve"
Leave a Reply
You must be logged in to post a comment.